Latest News from the SSS Network- SSS Network Assist's Medical Community 
Our recompression facility which is now part of COZUMEL INTERNATIONAL HOSPITAL promotes safety through education of dive operators, divers, and medical care providers.
Local hospitals work closely with our facility and consult with our chamber medical staff on DCI related topics to ensure early recognition and treatment of dive related illnesses.
Our facility, with the help of several locally based dive operators, has drawn up evacuation plans and as a result, speedy transport from all popular dive locations by ambulance is available to participating members. We also offer (free of charge) Dive Accident Management training to all our members.
       Testimonial 
I am grateful for the care and expertise I received at this facility. It is stressful enough to need surgery, but in a foreign country it can be overwhelming. The staff was so helpful and I appreciated their English was so much better than my Spanish!
Carolyn B Feb 2015
ABOUT OUR MHI PARTNER CHAMBERS
The Cozumel Hyperbaric Chamber and Clinic provides specialized medical care for commercial and recreational SCUBA divers suffering from Decompression Sickness (DCS) and Arterial Gas Embolism (AGE). Our clinic services also treat non-emergency ailments in divers (ear problems, fitness to dive physicals, and the like). We have also use HBOT (Hyperbaric Oxygen Therapy) to treat patients with non-diving related ailments: burns, non-healing wound care, crush injuries, traumas, and carbon monoxide poisoning.
Chamber Tours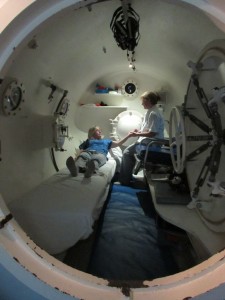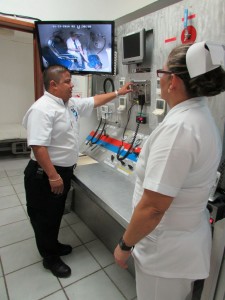 If you are visiting Cozumel and would like to tour our facility, you are welcome! Chamber tours are free, but we do ask that you contact us during business hours by phone to arrange an appropriate time to ensure there is not a patient in the chamber.
Our Facility is located just blocks from the beach, and near the Playa del Carmen Ferry Terminal, close to all the hotels and resorts near San Miguel. Dive shops and instructors or dive masters leading groups are invited to stop by and inspect the facility anytime. We work with dive groups from all over the world and look forward to meeting dive staff when on Cozumel.
Professional Affiliations
The SSS Network / Cozumel Chamber Facility is part of the Undersea Hyperbaric Medical Society (UHMS).
UHMS: www.uhms.org

OUR STAFF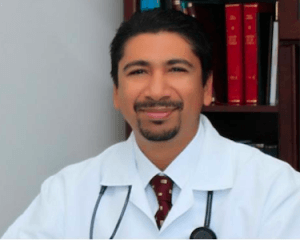 The SSS Network / Cozumel Chamber Facility is staffed by a team of full time professionals trained in all areas of emergency and hyperbaric medicine. While each member of staff often performs a variety of duties, chief among them are Dive Medical Officers (DMO), Emergency Medical Technician (EMT), Diving Medical Technician (DMT), Chamber Operators, Chamber Technicians, and Patient Attendants. Patient Attendants are called "Tenders" they ride in the chamber along with every patient, and are often cross trained with other emergency medicine specialties. We have US and Canadian RNs for the convenience of our visitors. Two of our full-time doctors are board certified as ENT, and Internal medicine, respectively.
OUR CHAMBER & EQUIPMENT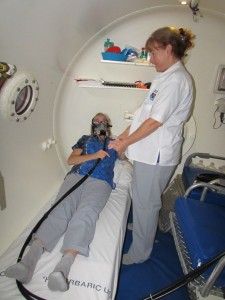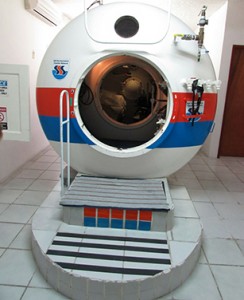 The SSS Network/Cozumel Hyperbaric Facility uses a Multiplace (double lock) Recompression Chamber. It is equipped to accommodate up to four patients plus two inside tenders, who accompanies the patient for the entire treatment.
A "Multiplace" or "Double Lock" Chamber allows the chamber technician to transfer relief staff, physician, supplies, and any other necessities into or out of the chamber without interrupting the treatment. The chamber may be pressurized to 50 meters or 165 feet (fsw), allowing us to provide any of the table options as outlined in the U.S. Navy treatment protocols, plus the mixed gas COMEX tables. Many chambers used worldwide today can only be pressurized to a maximum of 18 meters or 60 feet (fsw). While adequate for HBOT (chronic wound healing treatments), they are incapable of delivering the full range of available treatment protocols for all diving accidents. Multiplace and Double Lock chambers are much more expensive to operate, but we feel that the level of medical care delivered is worth the extra expense.
Additional Facilities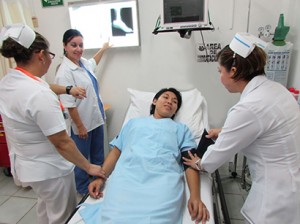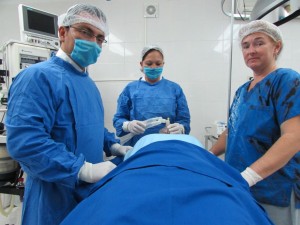 We also provide a wide range of emergency medical services at our facility. We have X-ray and doppler capability, a surgical operating theater, full service urgent care, hydro-therapy facilities, lab facilities, as well as a full complement of examination rooms and other diagnostic services. in addition, the facility offers a manned emergency outpost by the pier on Palancar Reef. In order to facilitate TRIAGE of patients for early management of dive accidents, EMT, diagnostic room, and ambulances are on site from 9am to 5pm daily.
AFFILIATED DIVE OPERATORS
Diving is a relatively safe sport, however there is always the possibility of an emergency. Whether these emergencies evolve into a full-blown accident often depends on the immediate care the victim receives. All divers should be aware of the causes, signs and symptoms of potential diving accidents, and be prepared to deal with them. Ensuring dive buddies are properly trained in emergencies is just as important. Remember a little planning and education can save a life!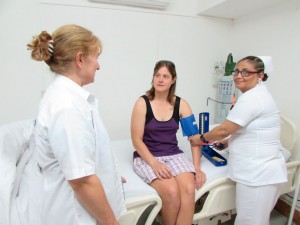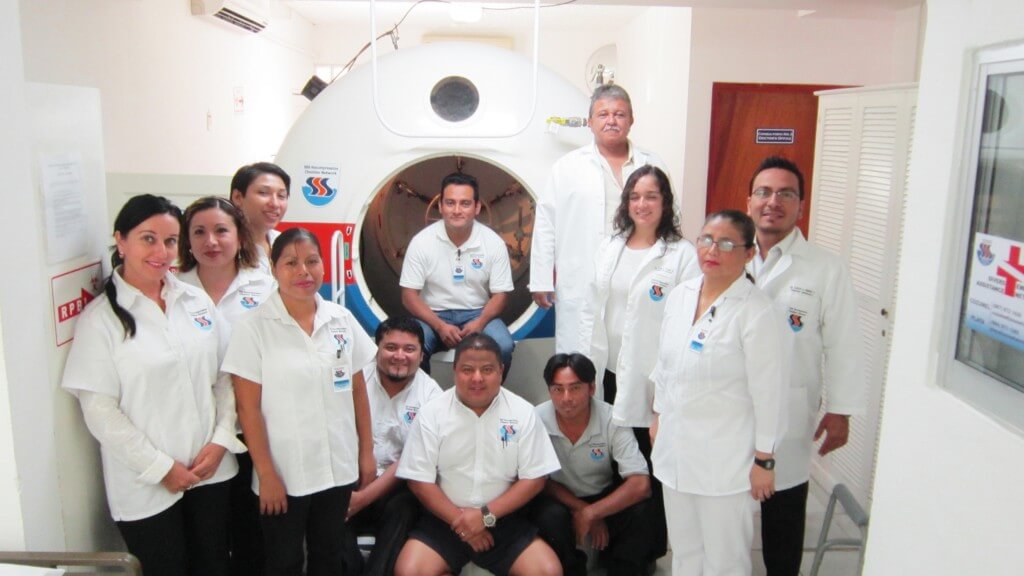 The establishment of a Recompression Chamber in a remote location (or at an underdeveloped infrastructure destination) is a serious undertaking. However, the ongoing, guaranteed operation of a recompression facility that is adequately staffed year-round is more than that: It is an enormous challenge! In a small community, where practically the only revenue treatments for the unit are diving-related, while at the same time the chamber staff is trying to create enough awareness to prevent accidents, the financial strain to remain viable is daunting.
The few billings for medical procedures are not predictable, nor quantifiably enough to guarantee the clinic's continuity. Thus, through a combined effort of Medicina Hiperbarica Integral (MHI Cozumel) and the following dive operators, a program was devised to solve this challenge:
Cozumel Affiliated Dive Operators
Email: cozumel@sssnetwork.com
CONTACT US

HTML Contact Box is loading
.
Mailing Address:
SSS NETWORK / Cozumel
Medicina Hiperbarica Integral
Calle 5 Sur # 21-B Cozumel
Centro QR 77600, Mexico
Phone: +52 (987) 872 1430 or 872 2387
Fax: +52 (987) 872 1848
Normal Clinic Hours are: 9:00 AM to 6:00 PM (U.S. Central Time, – 6 GMT)
Cozumel 24 Hour Emergency Phone: +52 (987) 103-5524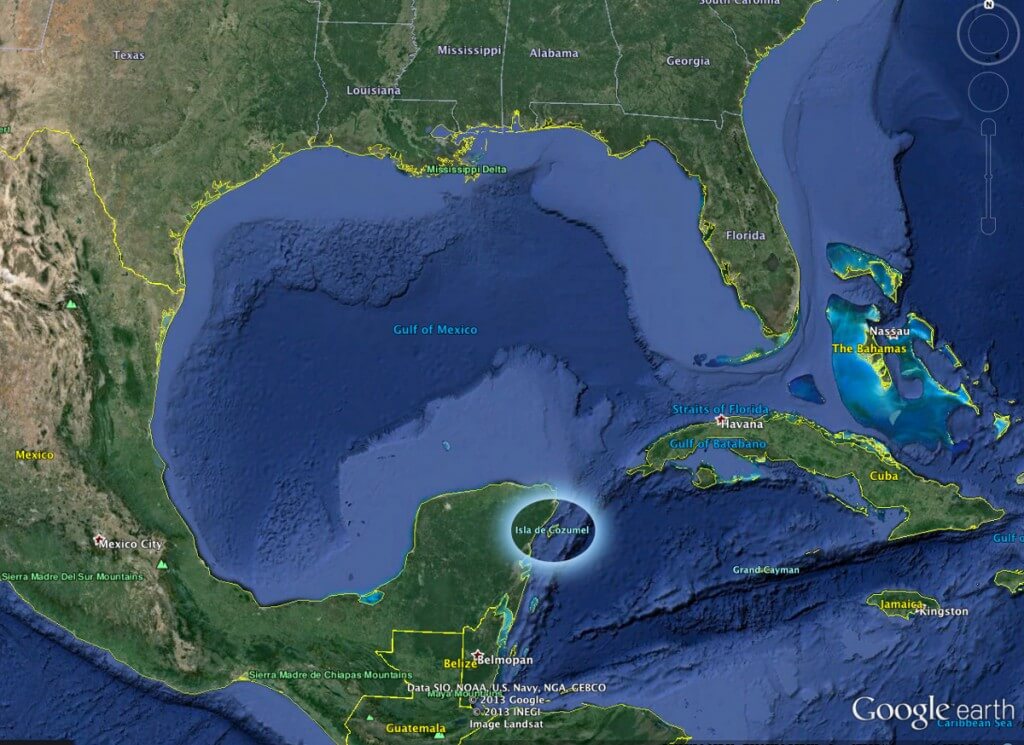 Cozumel Island is located near Cancun, Mexico, on the Caribbean side of the Country, just south of Cuba.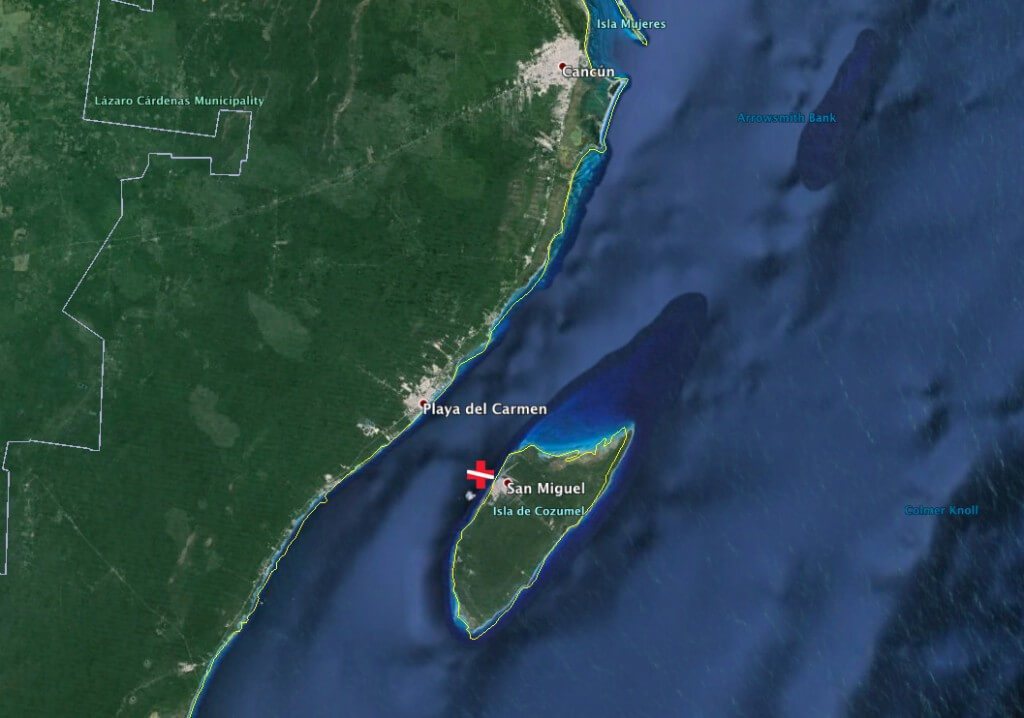 Located Close to Playa del Carmen and Cancun, Cozumel enjoys excellent scuba diving, making it one of the top locations in the world for diving.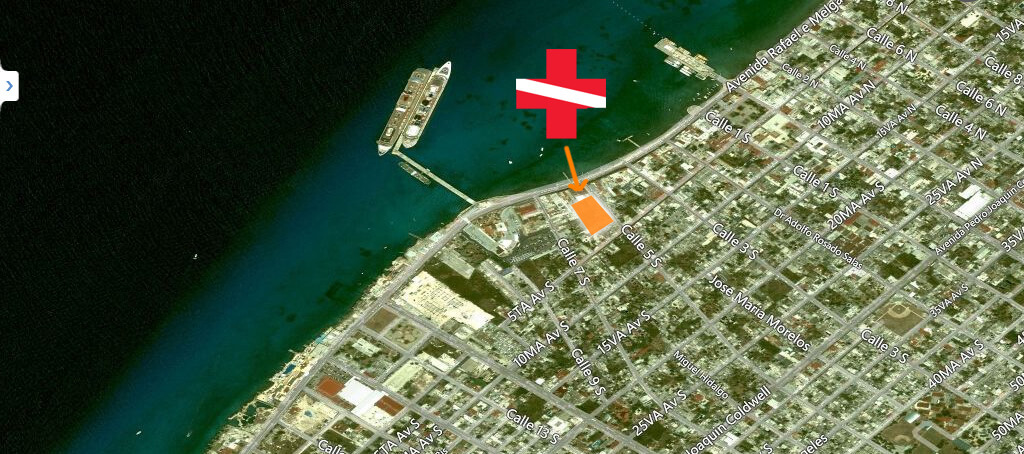 Located adjacent to the popular cruise ship pier in San Miguel, Cozumel's main city, the facility boasts a multinational, professional staff of highly training doctors and nurses.