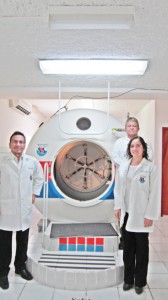 About Our MD Resources 
Our facility promotes safety through the education of dive operators, consumers, and other medical and emergency care providers.
The local area hospitals work closely with our facility and often consult with our chamber medical staff on DCI related topics to ensure early recognition and treatment of dive related illnesses. Our continuing medical education and training program has a special relationship with respected authorities in the diving and hyperbaric medical fields. Since 1988 SSS staff attended important conferences in subaquatic medicine around the world. It has also hosted and sponsored a dozen others, fostering brainstorming and experience-sharing of knowledge gained in the practice of diving medicine in the field.
Each of our clinics is staffed round-the-clock by medical doctors who have in addition to current local medical license, an international diploma in hyperbaric and diving medicine. Often these doctors are also board certified in emergency, internal, and/or sport medicine.
Because of our constant participation in International courses and symposia, we interact with many other colleagues at different teaching and research Universities that deal with hyperbaric and diving medicine.
As a result of this, many physicians around the world have agreed to, and do lend themselves to interconsult cases with SSS. Among them we can mention a myriad of authors, researchers and lecturers from around the world, such as:
Listed below in alphabetical order:
| | |
| --- | --- |
| Chris Acott, Australia | Elmer Gonzalez, Honduras |
| Paul Auerbach, USA | Mihaela Ignatescu, Austria/UK |
| Fred Bove, USA | Folke Lind, Sweden |
| Alf Brubakk, Norway | Aldo Lozano, Cuba |
| Francois Burman, S. Africa | Allesandro Marroni, Italy |
| Bruce Cohen, USA | Richard Moon, USA |
| Maurice Cross, England | Peter Mueller, Germany |
| Jordi deSola, Spain | Jorge Pisarello, Argentina |
| David Elliott, England | John Ross, Scotland |
| Caroline Fife, USA | Klaus Torp, Germany |

Contact Us 
Tel: + 1-214-890-7733
Fax: + 1-214-890-7744
Email: info@sssnetwork.com