OUR HISTORY
The Hyperbaric Facility in Ecuador's Galapagos archipielago is operated by Proteccion Subacuatica del Ecuador, SA (Protesub), and is located in the town of Puerto Ayora on the island of Santa Cruz. Puerto Ayora is the largest town in the Galapagos (pop. 20,000), and is a central 'crossroads' to all of the islands, making it the logical center for diving and medical emergencies.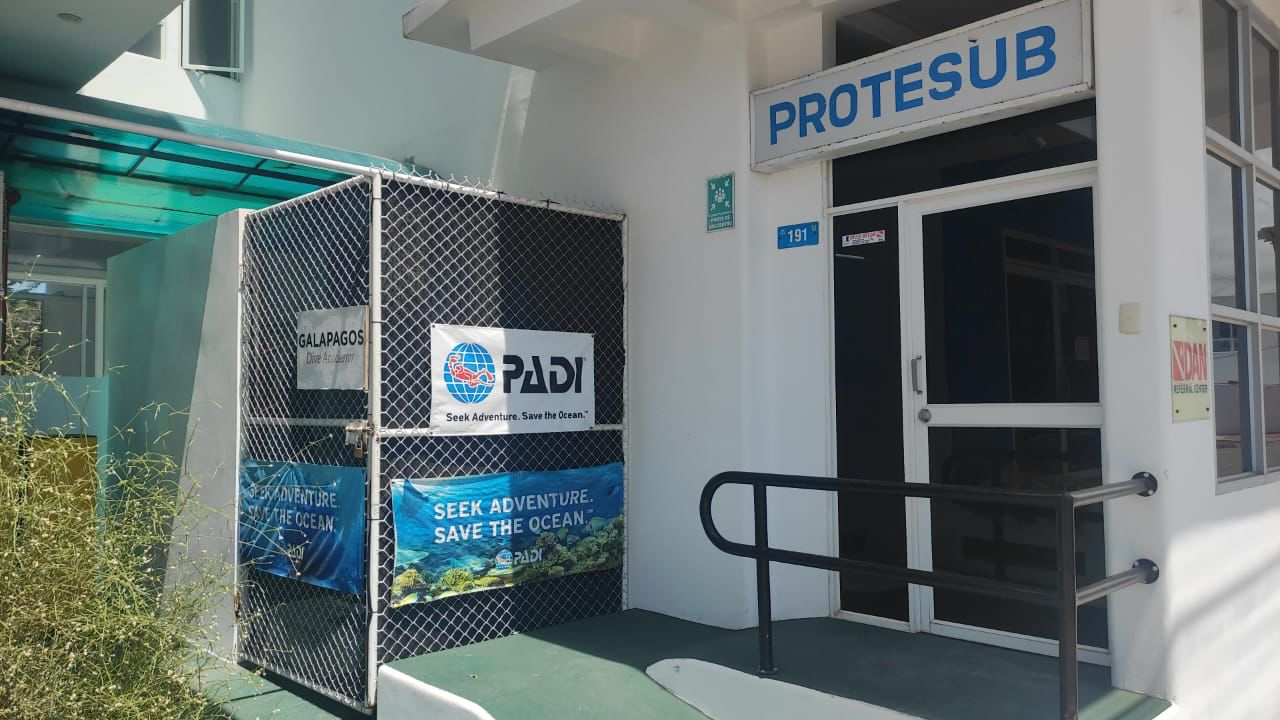 Protesub opened its doors to the diving community of Galapagos in July, 2001. It started its operations with nominal dive operator support, and now it is gaining more acceptance through awareness and education. To date, the Unit has treated over 80 recreational dive injuries requiring recompression, which could have resulted in death or permanent paralysis if the chamber did not exist. These include tourists, dive masters of the various dive operators. In addition, no less than 200 indigent local artisan diving-fishermen have used the hyperbaric chamber, receiving treatment on a mere cost recovery, or often on a pro bono basis. This charitable activity is performed as a public service to the community that hosts SSS/ Galapagos.
With the cooperation of the dive operators and the efforts of worldwide SSS Recompression Network, Protesub S.A. has been improving its standard of service to the dive community of Galapagos. It is more than a medical center specialized in Subaquatic and Hyperbaric Medicine.
The Hyperbaric Medical Center offers also a wound care service for other recognized Hyperbaric Oxygen Therapy indications as burns, gas gangrene, CO intoxication, diabetic wounds, contaminated wounds, osteomyelitis, etc. We have treated dozens of patients over the past nine years with excellent results.
Chamber Tours
If you are visiting Galapagos and would like to tour our facility, you are welcome! Chamber tours are free, but we do ask that you contact us during normal business hours by phone to arrange an appropriate time to ensure patient treatments are not being conducted.

return to top

ABOUT US/TRAINING/COMMUNITY SERVICE
The Hyperbaric Medical Center also plays an important role in education for the local diving community offering the following courses:

For the general public: Courses in BLS (Basic Life Support), PADI Emergency First Response, DAN Oxygen Provider, DAN poisonous marine life management, and in the use of automated cardiac defibrillator.
For the Galapagos Marine Reserve National Park Service: Our staff has offered courses addressed to the local dive guides, about the physiology of diving and decompression theory, as well as in the use of oxygen equipment and BLS.
For fishermen and diving crew of local operators: We have given courses for recognition and management of diving accidents, use of oxygen equipment and BLS.
Protesub also co-sponsored three (3) intensive research projects with the University of Trondheim (Norway), and DAN Research Department (USA). These programs were explicitly aimed to measure diving risks in fishermen and train them on how to reduce dive injury incidence.

return to top
Professional Affiliations
The SSS Network / Galapagos Facility is an International Divers Alert Network (IDAN) Referral Center and is a member of the Undersea Hyperbaric Medical Society (UHMS).
DAN: www.diversalertnetwork.org
UHMS: www.uhms.org

return to top

OUR STAFF

We maintain our hyperbaric clinic on a 24 Hour Emergency Basis, but also with regularly scheduled hours. Our staff includes Physicians, Emergency Medical Technicians (EMT's), Chamber Operators, and Patient Attendants. All are trained by accredited international associations in hyperbaric medicine.
The Clinic has the latest technology and operates under rigorous international regulations and safety standards. The medical and technical personnel has been trained in Europe (France and Spain), USA, and Mexico. The staff keeps up-to-date with Continued Medical Education seminars all around the world. The Chamber Facility is part of the international SSS Network, a global hyperbaric medicine provider, and is operated by Protesub, S.A. of Ecuador.
| | |
| --- | --- |
| Dr. Gabriel Idrovo, MD, DMO | |

return to top

OUR CHAMBER & EQUIPMENT
The SSS Network / Galapagos Hyperbaric Center uses a Multiplace Recompression Chamber which is equipped to accommodate up to two patients at a time, plus a Patient Tender (attending nurse). Patients must be accompanied by a Patient Tender during any/all recompression treatments.

....

ADDITIONAL FACILITIES
The Hyperbaric Center besides its hyperbaric service, offers medical consultations in internal medicine, gynecology, pediatrics, geriatrics, osteopathy and emergency medicine.

return to top

AFFILIATED DIVE OPERATORS
With the assistance and support of a large number of dive operators in Galapagos, and through the SSS Network ACCESS PROGRAM, we work to provide the safest possible treatment in the case of a diving accident.
These Dive Operators have made a strong commitment to diving safety in the Galapagos Islands. If you plan on visiting Galapagos please visit their web sites and learn a bit more about them.
The Dive Operators are listed below in alphabetical order. (N.A. means to web link available at this publishing date).
| | |
| --- | --- |
| GALAPAGOS DIVE OPERATORS | |
| | |
| ACADEMY SOL y MAR DIVING | |
| CARVAJAL JUDY | |
| DIVE CENTER HOTEL SILBERSTEIN | |
| ECOVENTURA | |
| EDEN YATE | |
| GALAEX SA. | |
| GALPACIFICO TOUR | |
| GALASCUBA SA. | |
| IGUANA TOUR | |
| MARGAL S.A BELUGA | |
| QUASAR NAUTICA | |
| SCUBA IGUANA | |
| WRECK BAY DIVING CENTER | |

return to top

CONTACT US
You may contact the SSS Network / Galapagos Facility via email, mail, and/or telephone/fax.
Email: galapagos@sssnetwork.com

Mailing Address:
SSS NETWORK / Gapalagos
Protesub S.A.
Calle 18 de Febrero y General Rodriguez Lara
Puerto Ayora, Santa Cruz
Galapagos, Ecuador
Phone/Fax: +593 (52) 526 911

Normal Clinic Hours are: 9:00 AM to 8:00 PM (U.S. Mountain Time, - 7 GMT), 7 Days a Week

return to top