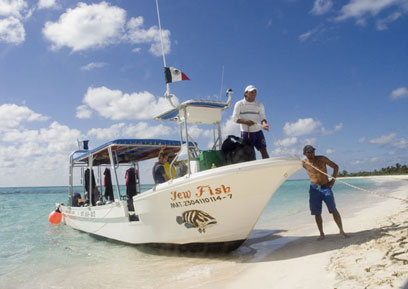 Back in the early days of dive travel, diver decompression chambers were scarce and rarely in tropical dive locations. Our story started on a dive boat in Cozumel. After a dive on Santa Rosa reef, we went to San Francisco Beach for our surface interval (as was common then). One person in the group became ill with a severe case of the 'bends' or decompression sickness. With no local chamber, the diver needed emergency evacuation back to the USA where the closest chamber open to civilians was located at the time. Out of compassion for the ill diver, the other divers on the boat offered their personal credit cards to cover the enormous cost of evacuation back to the mainland. The diver was saved, and from that experience, a need for a diver decompression chamber was born on Cozumel, which went on to become the first of over a dozen Subaquatic Safety Services (SSS) chambers spanning the globe. The SSS Network Chambers are part of the Diver Emergency Assistance Network (DEAN), and treat a diver somewhere in the world almost every hour of each day of the year. The company was started from a need to help divers, that is what drives the company to this day.
OUR MISSION

MISSION TO OUR PATIENTS 
Deliver high quality medical care with professionalism, courtesy and concern for all involved.

MISSION TO DIVE INDUSTY PROFESSIONALS 
Make available the quality of information and training needed for prevention, and when needed, proper handling of dive related injuries and medical evacuations.

MISSION TO THE PUBLIC 
Provide facilities that by their existence and appearance will be an asset to the local community, and give confidence to any visitors. Conduct our business in a safe and ethical manner. Implement and enforce local and international guidelines and regulations pertaining to our line of healthcare.

MISSION TO OUR STAFF
Provide a safe working environment, making available appropriate facilities and equipment so they may perform their duties optimally. Provide "international accreditation level" training in areas that are vital in carrying out their tasks.
ABOUT US

About The SSS Network 
Our facility promotes safety through the education of dive operators, consumers, and other medical and emergency care providers.
The local area hospitals work closely with our facility and often consult with our chamber medical staff on DCI related topics to ensure early recognition and treatment of dive related illnesses. Our continuing medical education and training program has a special relationship with respected authorities in the diving and hyperbaric medical fields.

Contact Us 
Tel: + 1-214-890-7733
Fax: + 1-214-890-7744
Email: info@sssnetwork.com