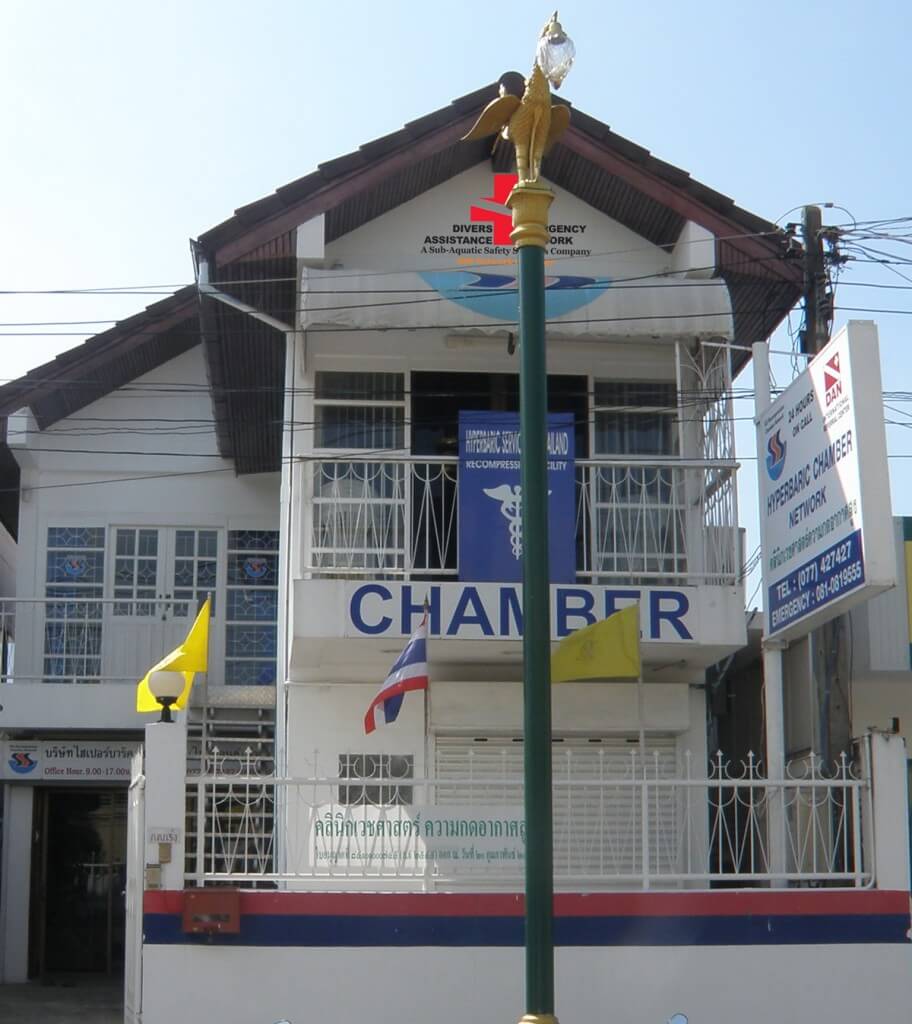 The SSS Network / Koh Samui, Thailand Recompression Facility is located on the island of Koh Samui in the Southern Gulf of Thailand. "Koh" is the Thai word for island, and Koh Samui is often referred to simply as "Samui". Located offshore in the Gulf of Thailand on the eastern side of the country, this area is a magnet for SCUBA divers from around the world. Samui was also one of the first areas of Thailand to be developed for tourism.
This chamber facility operates in partnership with the Thai International Hospital and specializes in the medical care and treatment of recreational divers suffering from Decompression Sickness (DCS) or Arterial Gas Embolisms (AGE).
Our recompression chamber serves the Surat Thani district of Thailand which includes the islands of Ko Samui, Koh Tao and Koh Phangan.
The SSS Network / Samui Chamber has the following services:


  Multiplace Hyperbaric Chamber


  Out Patient Service Areas


  In Patient Service Areas


  Seminar and Teaching Classroom


  Administrative Areas


  High and Low Pressure Compressor Systems
     Testimonial 
The staff at the SSS chamber in Samui are excellent, the help make a stressful and scary situation manageable and it is apparent they are genuinely concerned for your well being and a positive recovery. They take the time and work around their own personal lives and schedules to ensure you are treated to the highest standard.
Claire P  March 2015
Chamber Tours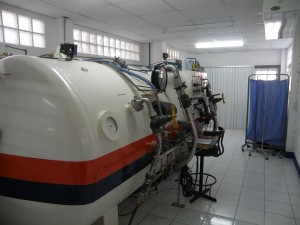 If you are visiting Samui and would like to tour our facility, you are welcome! Chamber tours are free, but we do ask that you contact us during normal business hours by phone to arrange an appropriate time to ensure patient treatments are not being conducted.
ABOUT US/COMMUNITY SERVICE
The SSS Network / Samui Chamber Facility supports the diving community by offering numerous free services including: medical advice, the latest dive safety tips, Decompression Sickness Seminars and Chamber Orientations. We also offer ongoing training and education to the Dive Operators and Health Care Providers throughout Thailand.
For the individual Thai boat captains and boat staff we are only too happy to spend time sharing the importance of oxygen for diving injuries, the use of their on-board equipment, and the guidelines for oxygen provision. We regularly teach oxygen provider courses and first aid courses, and for those wanting to expand their knowledge of diving medicine.
Professional Affiliations
The SSS Network / Samui Chamber Facility is an International Divers Alert Network (DAN) Referral Center and is part of the Undersea Hyperbaric Medical Society (UHMS), the South Pacific Undersea Medical Society (SPUMS), and consults with the Diving Emergency Services (DES) of Australia.
DAN EU: www.daneurope.org
UHMS: www.uhms.org
SPUMS: www.spums.org.au
DES: www.rah.sa.gov.au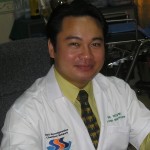 The SSS Network/Samui Chamber Facility is staffed on a 24 Hour Emergency Basis by a team of full time professionals trained in all areas of emergency and hyperbaric medicine. While each member of staff often performs a variety of duties, chief among them are Emergency Hyperbaric Physicians, Diving Medical Technicians (DMT), Chamber Operators, and Patient Attendants. Patient Attendants "ride" in the chamber along with every patient during their treatment, and are often cross trained with other emergency medicine specialties.
All staff have been internationally trained and certified at some of the most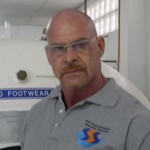 well known organizations for Diving and Hyperbaric Medicine. These include the Diving and Disease Research Center (DDRC) in the UK, the Royal Adelaide Hospital in Australia, the Undersea & Hyperbaric Medicine Society (UHMS), and the Divers Alert Network (DAN).
The clinic is part of the international SSS Network, a global hyperbaric medicine provider, and operated by Hyperbaric Services of Thailand, (HST)
Training
A SSS Network Tender Operators Course was heled at SSS Koh Samui 15-18 April 2015 with 10 participants from both Koh Tao and Samui successfully completing the course.
The course was conducted by
SSS Staff – Paul Cunliffe, Ricky Sgherri.
For more information and on future courses in Thailand please email phuket@sssnetwork.com
OUR CHAMBER & EQUIPMENT
At the heart of any facility specializing in Hyperbaric Medicine is the chamber itself. The Samui facility uses a "Multiplace" Recompression Chamber. It is equipped to accommodate up to 3 occupants at one time including the Inside Attendant, who accompanies the patients for the duration of the treatment. Voice communication between the chamber and the operators is maintained at all times, plus the interior of the chamber is monitored via video cameras as well as viewing ports.
A "Multiplace Chamber" allows a chamber technician to transfer additional supplies, a physician, or relief staff in or out of the chamber without interrupting the treatment. The chamber may be pressurized up to 165 feet (fsw) / 50 meters, allowing us to provide any of the table options as outlined in the U.S. Navy treatment protocols. Many chambers used worldwide today can only be pressurized to a maximum of 60 feet (fsw) / 18 meters. While adequate for HBOT (Hyperbaric Oxygen Therapy) they are incapable of delivering the full range of available treatment protocols for all diving accidents. Multiplace chambers are much more expensive to operate, but we feel that the level of medical care provided is worth the extra cost.

Events & News on KOH TAO
AFFILIATED DIVE OPERATORS
These Dive Operators have made a strong commitment to diving safety in the Gulf of Thailand. If you plan on visiting any of these areas, please visit their web sites and learn a bit more about them.
The Dive Operators are listed below:
CONTACT US

HTML Contact Box is loading
.
You may contact the SSS Network / Samui Facility via email, mail, and/or telephone/fax.
Email: samui@sssnetwork.com

Mailing Address:
SSS NETWORK / Samui
Hyperbaric Services of Thailand
34/8 Moo 4 Bophut
Koh Samui, Surat Thani, Thailand 84320
Phone: +66 (0)77 427 427
Fax: +66 (0)77 427 327
Please Note: Normal Clinic Hours are: 9:00 AM to 5:00 PM, (THA, +07 GMT) Monday to Friday
24 Hour Emergency Mobile Number: +66 (0)81 081 9555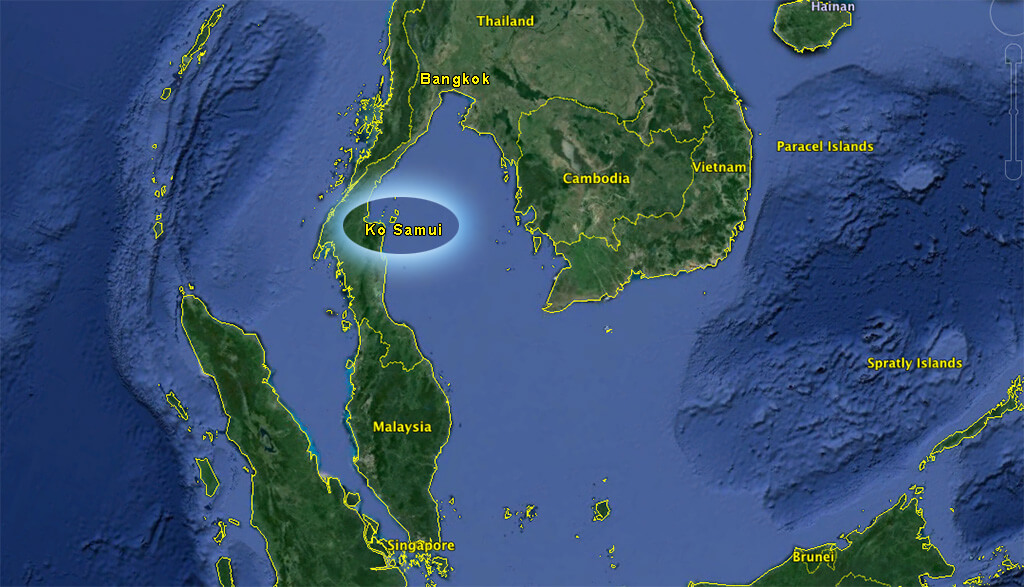 Located on the Eastern side of Thailand in the Gulf of Thailand, Koh Samui is home to incredible scuba diving in the calm protected waters of the Gulf.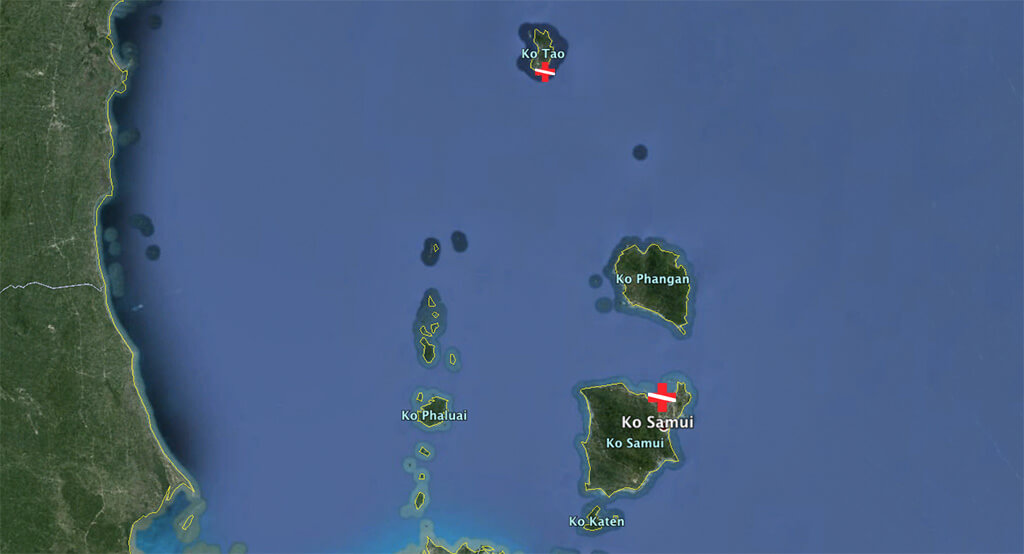 Situated close to Koh Tao, the Koh Samui chamber services many islands in the Gulf as well as mainland Thailand. In addition, SSS maintains a presence on Koh Tao with a DMT on site, as well as a specialized diver evacuation plan to get patients to the chamber in Koh Samui.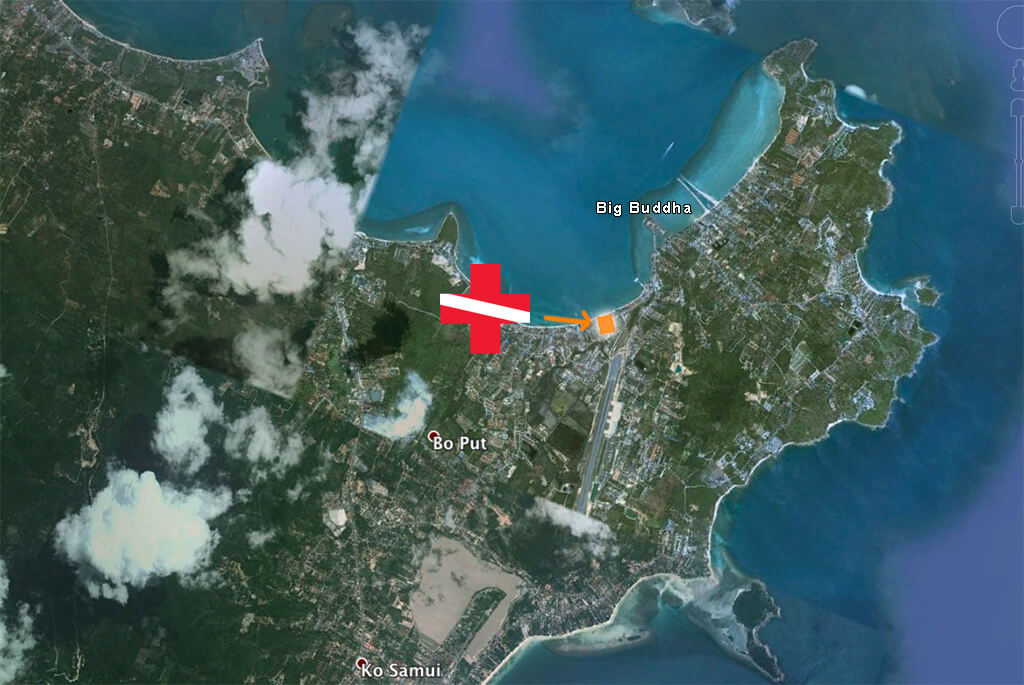 Located in front of the Big Buddha at Bophut Beach, the Samui chamber is centrally located in Samui.