24 / 7 – All year round
Latest News from the SSS Network- Chamber Tender Operator Course 21 – 25 Aug
OUR HISTORY
The SSS Network / Phuket Hyperbaric Chamber Facility first opened its doors in 1996. This was the first diver recompression chamber in southern Thailand and the first HST facility out of currently 3 for the network in the Kingdom. This clinic operates in special liaison for other major medical adjunctive care with The Phuket International Hospital.
Our Facility specializes in the medical care and treatment of recreational divers suffering from Decompression Sickness (DCS) or Arterial Gas Embolisms (AGE). Our recompression chamber serves the entire west coast of Thailand which stretches from the northern Border with Myanmar (formally called Burma) south to the Malaysian border.



Our facility started off in a small unit but due to rapid expansion in the industry within the area, more space would be required. Services that were improved as a direct result were the in-patient care facilities, and separate examination area, We also have a lecture and seminar area where presentations are given by the local chamber staff or by leading Dive and Hyperbaric Physicians in the field about "cutting edge" dive safety topics.



The SSS Network / Phuket Chamber has the following services:


 Large Multiplace Hyperbaric Chamber


 Out- Patient Service Areas


 In-Patient Service Areas


 Seminar and Teaching Area


 Administrative Areas


 High and Low pressure Compressor Systems
     Testimonial 
Thank you for everything your team did for me. The calmness and confidence was especially appreciated. The most stressful part of the whole experience was actually worrying about insurance. Kevin was great at working on it efficiently and effectively and I am grateful since it was my first time having to rely on the precautionary travel insurance we had thus far been lucky enough to never use.
Casey K April 2015
Chamber Tours
If you are visiting Phuket and would like to tour our facility, you are welcome! Chamber tours are free, but we do ask that you contact us during normal business hours by phone to arrange an appropriate time to ensure patient treatments are not being conducted. During the months of May – Oct, dry dives can be arranged for groups on the second and fourth Friday of each month.
ABOUT US/COMMUNITY SERVICE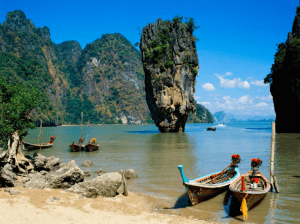 The SSS Network / Phuket Chamber Facility works with the Phuket Diving, Medical, and Rescue communities in a number of ways. We sponsor seminars and training programs on a regular basis to our local dive operators, and host seminars on rescue and dive medicine topics.
COURSES
The Phuket, SSS Network Chamber, now offers a range of courses for the Non Diver, Recreational Diver and Dive Professional. Click on the course name below for more information.
SSS Tender/Operator Course (TOP)
SSS Recreational Dive Medic Technician 
 Teaching Presentations / Lectures
We sponsor frequent presentations by chamber staff or international guest speakers. These seminars are free of charge and will be announced by e-mail, posters and newsletter to all members of the local diving community. Presentations include topics such as: Chamber Orientation, DCI Prevention, Ear Problems and Diving, Ear Infections, Principles of Recompression,Interactions of certain drugs and diving, Nitrogen Narcosis, etc.
Professional Affiliations
SSS Network / Phuket Chamber Facility is an International Divers Alert Network (IDAN) Referral Center and is a member of the Undersea Hyperbaric Medical Society (UHMS), the South Pacific Undersea Medical Society, (SPUMS) and consults with the Diving Emergency Services (DES) of Australia.

The At Hyperbaric Services Thailand (HST), which is the Sub-aquatic Safety Services (SSS) worldwide network affiliate in Phuket, we are fortunate to have the full medical services available on site provided in partnership with the International Standard care facilities of Phuket International Hospital (PIH).
Phuket International Hospital (PIH) is one of the largest international hospitals in the region and provides a comprehensive range of acute care services. At PIH one can find not only professional assistance for dive related injuries provided by SSS Phuket but also a comprehensive range of specialty, general and surgical medical services provided directly by the hospital. PIH has cardiology, extensive trauma care facilities, general surgery and a full contingent of in patient and out patient services. Medical assistance is available in hyperbaric medicine, recompression treatment, hyperbaric oxygen therapy, obstetrics, paediatrics, Lasik, plastic surgery, dental services, dialysis and many other specialised services. PIH has critical care services comprised of an 11-bed ICU, Intensive Care Unit. In addition it has a fleet of ambulances on site and scattered throughout Southern Thailand for swift response.
SSS Phuket / Hyperbaric Services Thailand and Phuket International Hospital alliance provide divers and other patients with 24-hour, seven-day-a-week emergency services.
For superior service to ALL patients, but particularly foreigners– the on-site International Services department at PIH provides coordination in various aspects of patient needs including liaison with international insurers and insurance agencies and assistance with foreign embassies.
All the services on offer at PIH are provided to ensure that any hospital stay, for the patient and their family and friends, is taken care of smoothly. This is just one of the reasons that Hyperbaric Services Thailand and SSS Phuket, Krabi, Ko Lanta and Khao Lak choose to be in partnership with this first class international hospital.
DAN EU: www.daneurope.org
UHMS: www.uhms.org
SPUMS: www.spums.org.au
DES: www.rah.sa.gov.au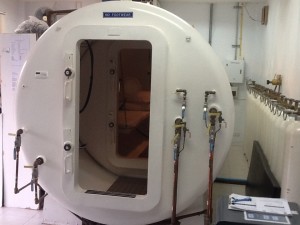 At the heart of any facility specializing in Hyperbaric Medicine is the chamber itself. The Phuket facility uses a "Multiplace" Recompression Chamber. It is equipped to accommodate up to 4 occupants at one time including the Inside Attendant, who accompanies the patients for the duration of the treatment. Voice communication between the chamber and the operators is maintained at all times, plus the interior of the chamber is monitored via video cameras as well as viewing ports.
A "Multiplace Chamber" allows a chamber technician to transfer additional supplies, a physician, or relief staff in or out of the chamber without interrupting the treatment. The chamber may be pressurized up to 165 feet (fsw) / 50 meters, allowing us to provide the table options as outlined in the U.S. Navy treatment protocols.
Many chambers used worldwide today can only be pressurized to a maximum of 60 feet (fsw) / 18 meters. While adequate for HBOT (Hyperbaric Oxygen Therapy) they are incapable of delivering the full range of available treatment protocols for all diving accidents. Multiplace chambers are much more expensive to operate, but we feel that the level of medical care provided is worth the extra cost.
Along the Andaman coastline from north to south, but predominantly in the Phuket area are pockets of "Sea Gypsy" villages. These are groups of indigenous Thai fisherman who earn their living from the sea. Instead of SCUBA, they often use systems referred to as "Hookah" rigs where their air supply is secured and controlled by staff on the boat. Due to the lack of education and experience, these people occasionally develop Decompression Illness. As a service to the community, these fisherman present themselves to the facility they are treated 100% free of charge until they either attain complete resolution of their symptoms, or plateau with regards to their progress.
Diving on the Western Side of Thailand is done in the Andaman Sea and, far offshore, the Indian Ocean. This region is listed as one the top 10 dive areas which undoubtedly has world class dive sites.
These Dive Operators have made a strong commitment to diving safety in the Andaman Sea area. If you are planning to visit this region, please visit their web sites and learn a bit more about them.
The Dive Operators are listed below.
Contact Us!Click here for information about Phuket
HTML Contact Box is loading
.
Email: phuket@sssnetwork.com
Mailing Address:
SSS NETWORK / Phuket
Hyperbaric Services of Thailand
44/1 Moo 5, Chalermprakiat Ror 9 Vichit,
Muang, Phuket 83000, Thailand
Phone +66 (0)76 209 347
Fax: +66 (0)76 612 660
Please Note: Normal Clinic Hours are Monday to Friday 9:00 AM to 6:00 PM, Saturday 9:00 AM to 12:00 PM, THA, (+07 GMT)
24 Hour Emergency Phuket Mobile Number: +66 (0)81 081 9000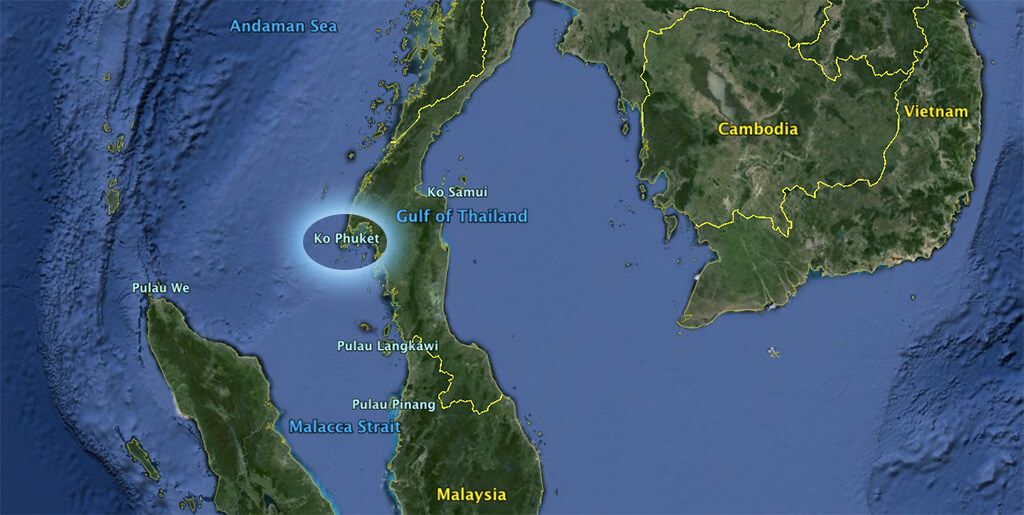 Phuket Island is located on the Western side of Thailand, just north of Malaysia, and home to over 60 dive operations on Phuket.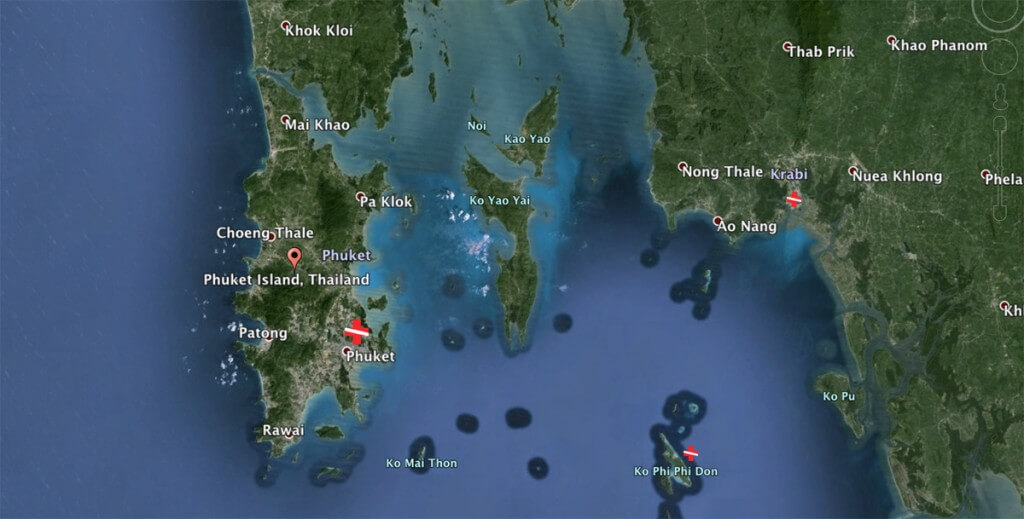 Located in the main business district, Muang, the chamber is centrally located and close to most major dive operators on the island. Satellite medical facilities are also located in Ko Phi Phi and Krabi as well that are serviced by the Phuket chamber.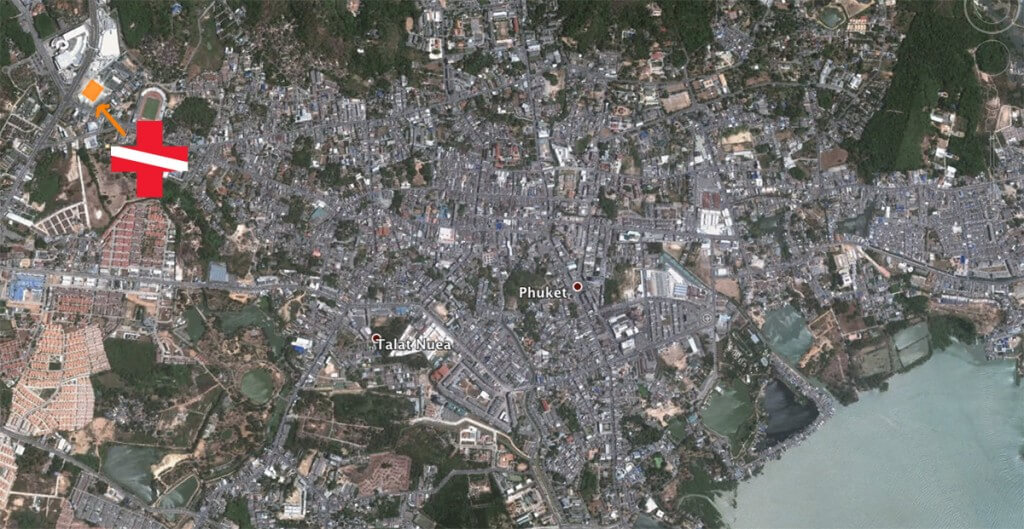 The Phuket chamber is located at the prestigious Phuket International Hospital, allowing for many medical services adjacent to the Chamber.